Coolest Bikes We Are Expecting in 2020
This has been a wonderful year for new bikes and 2019 has given us some incredible models from the new Honda CBR300 to the stunning updated model of the Triumph Bonneville Speed Twin, to name just a couple. As the year closes however there is no time to reflect on the offerings of 2019, we are instead looking forward only, and getting excited about the range of outstanding models which 2020 is going to bring. We've highlighted some of the bikes which we're most excited about this year, take a look at see if you agree.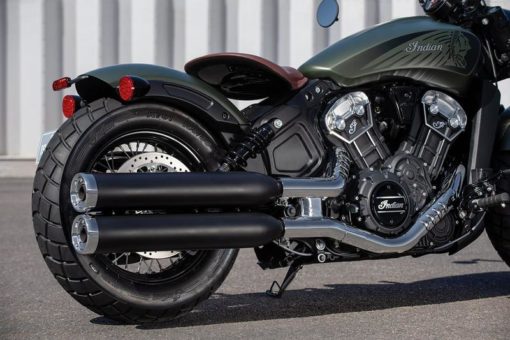 Indian Scout Bobber 
There are some really exciting cruisers to look forward to in 2020 and the one which has got us very excited is then centenary edition of the Indian Scout Bobber. The Scout range has been incredibly successful for Indian Motorcycle which is why it makes perfect sense to mark this special date with a very special motorbike. The 100th Anniversary edition will be on sale for $15,999 and doffs its cap to the original with red paintwork and gold trim, vintage tan leather seat and a small luggage rack at the back. Get in quick with this one as Indian are only producing 750 bikes globally. 
Aprilia RSV4 X
In terms of sports bikes the RSV4 X is already looking as though it going to set the world alight. Sadly there are only 10 of these hand-made bikes being built and with a price tag of $45,000, even if you were one of those 10 people, you may very well not have wished to drop quite so much on a bike. The 1100 RSV4 has been meticulously designed and it is packed with the most cutting edge bike tech available. The initial phots we've seen look spectacular, with beautiful magnesium Marchesini wheels, and carbon fiber body work which weighs just 165 kg. Expect this beast of a machine to churn out 225 brake horsepower from the roaring V-4 engine, Aprilia have created quite a bike here and you can expect to see it in mid-2020. 
Harley Davidson Live Wire
We couldn't do a list like this without mentioning a new Harley Davidson and 2020 will bring us the holy anticipated Live Wire, a prototype which we have seen kicking around for almost 5 years now. HD have re-upped their electric powered bike and we can't wait to see how it performs. The Live Wire has rapid charging, long lasting batteries and has an expected torque of 86lb.-ft. Harley are claiming that this bike will have an incredible 105 horsepower, a phenomenal effort for a chunky electric motorbike. The 2020 version of the Live Wire will cost between $29,799 and $30,149, and is expected to be released in the first quarter of the year. 
Which of these incredible machines are you most looking forward to seeing in 2020? Let us know in the comments section below this post.